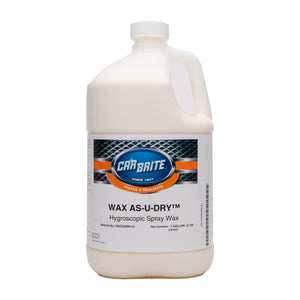 Wax As-U-Dry™ is an easy-to-use liquid carnauba-based wax with a bubblegum fragrance.  Formulated to be used on wet or dry surfaces.  Its unique hygroscopic properties allow the wax to mix with water for fast, one-step wax as you dry.   It can be used on all exterior surfaces without any risk of "whiteout".
How to use
Wash vehicle and leave surface wet.  NOTE:  Also works well on dry surfaces.
IMPORTANT: Shake container to ensure product is thoroughly mixed.
Spray lightly to vehicle's exterior surfaces being careful not to over-saturate.
Wipe off with synthetic drying cloth or clean microfiber towel.  For large surface areas like RV's, use an extendable paint handle and microfiber head.