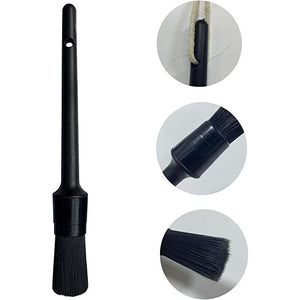 Various-Size - 5 different brush sizes, you can choose any one to suit your needs, enough length for easily exploring and reaching into the lug nuts, narrow or tight space.

Soft Bristles - Professional detailing brush set for you to clean the interior and exterior of the auto, the wheels, the dashboard, the wiper, the air vent, the glasses, the seats and other tiny places

Long Bristle & Soft Parts - No chance of marring or scratching your delicate wheels. Makes it the safest detail brush for your vehicle.

Durable Bristle with Density - The detailing brush bristles are durable and don't fall out. Even after repeated cycles of detailing, the detail brush does not shed. Car detailing brush head is thick, able to hold a good amount of soapy water for more cleaning action.