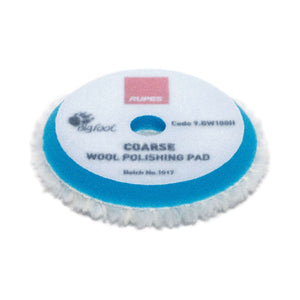 Heavy Cutting Wool Pad (For use with 3" Diameter Backing Plate)
The Rupes Blue Coarse Wool Polishing Pad is designed for removing heavy swirl marks, scratches and oxidation from any color paintwork. These coarse pads are constructed using two distinct fiber lengths creating a dual density wool surface and provides a great balance of cutting power and finishing ability when compared to traditional or single density wool pads.  Ideal for all paint finishes. 
Features:
Pair with RUPES BigFoot Zephir Gloss Coarse Compound for use with Random Orbital and Triple-Action Polishers(LHR75E, LHR75, LTA75).

Dual Density Fibers.

Ideal for all paint finishes.

Remove up to P1500 sanding marks from fresh paint.
Specifications:
Material: Wool over foam interface.

Hook & Loop Diameter: 3".

Polishing Face Diameter: 3.5".

Thickness: 1".

Color: Blue and White.

Made in: Italy.